OUR VOLUNTEER STORIES
Volunteers make the world go round, especially here at Foodbank WA. Each of our volunteers is one in a melon and thanks to their support, we were able to distribute 3.7 million kilograms of food all around Western Australia in 2021.
Featured here are just a few of the incredible volunteers who make a difference in our Perth and regional branches. Read about how they make a difference and find out how you too can volunteer with your local Foodbank branch.
Volunteering is a great opportunity for people to connect with others and make life-long friends. Act Belong Commit recognises the benefits of volunteering to keeping mentally healthy and we're proud to be partnered with Act Belong Commit.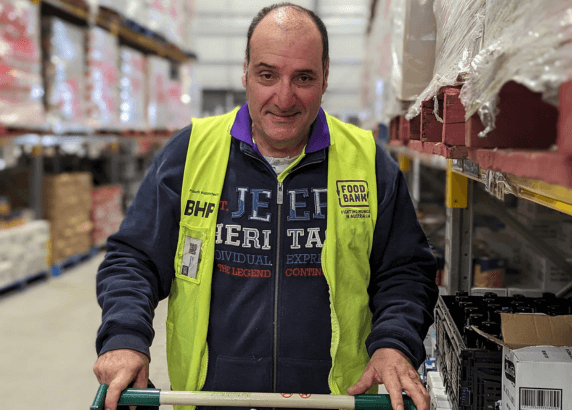 Joe
Five years ago, Joe was looking for opportunities to make a difference in his community when he came across Foodbank and knew he had to help. Now, you'll find him on our shop floor every week, ensuring product is always ready for our shoppers.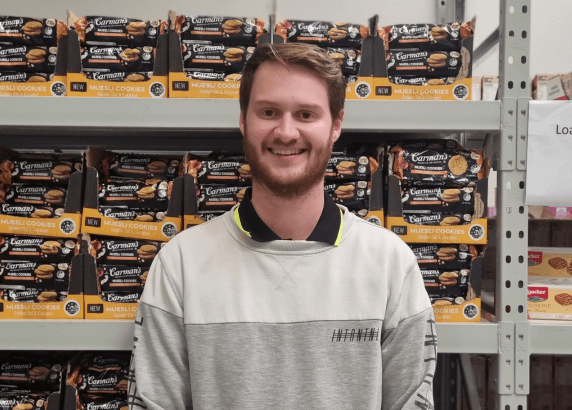 Martin
When Martin isn't soaring through the skies as a pilot, you'll find him dedicating his time and energy to volunteering at Foodbank WA. For the past three and a half years, Martin has become a customer-favourite in our Perth warehouse, creating a warm and welcoming space for our staff, volunteers, and customers alike.
Ollie
While Ollie is relatively new to volunteering with us, she has very quickly become invaluable to staff and volunteers alike. Day one for her was one of the last shopping days ahead of Christmas. It was a day of revolving queues of new and existing customers all needing assistance before they could go shopping. But Ollie says she's loved every minute of it.

Les
Les has been volunteering with us for just on three years now and is a favourite with both staff and volunteers alike. His friendly and engaging personality is the best of what we strive to provide for our customers. 

Maggie
Maggie has become a very familiar face here at the Centre for Hunger Relief in Perth since the early days of COVID pandemic. Hearing of our volunteering plight during COVID and wanting to give back, Maggie who is retired, initially started helping out in the Community Kitchen with Chef Grant.

Gillian
For Gillian, working together with a group of like-minded volunteers is really rewarding and also a great place to meet new and lovely people. "I get a lot of satisfaction out of helping people, it works both ways. Doing a few hours' a week is beneficial to everyone concerned."

Nick
After starting in 2021, Nick volunteers two days a week and has really enjoyed being able to make a difference. Whether he's packing hampers, stocking shelves or greeting people visiting Foodbank Perth, Nick can do anything.

The Golden Girls
As golden, warm and cozy as a roast spud, our very own Golden Girls have made a name for themselves in our Community Kitchen. The Golden Girls are proud of the difference they make in the kitchen, preparing healthy and nutritious meals going directly to those who need them most.

Viktor
When you walk into the warehouse and see Viktor, you can't help but smile because he is always smiling!  Viktor volunteers 3-4 days a week and he loves that each day is different; working with different teams but working towards a common goal.

Fiona
If you need a go-to person in the Perth Warehouse, find Fiona. Fiona has been with us for two and half years and truly we just don't know what we'd do without her. Everyday with Fiona is an amazing day, she's like a whirlwind in the warehouse; you name it, she can do it!
You too can volunteer just like these amazing people. Join us and start making a difference.