CHEVRON AUSTRALIA SEALS THE MEALS
How their support changes our Community Kitchen
Chevron Australia have supported Foodbank WA with financial support that has allowed us to purchase new equipment for our Community Kitchen as well as provide free food to those in need.
From answering our call for help at the start of the COVID-19 pandemic when our shelves were empty, to volunteering to pack hampers to send them out to all corners of our state, the Chevron Australia team have supported us through thick and thin.
Most recently, Chevron Australia gifted our Community Kitchen three heat sealers which have opened up new possibilities for food rescue and distribution.
Our kitchen often receives food that doesn't always freeze well, such as boiled eggs, potatoes, and fresh salad items. These foods are hard to move quickly and may go to waste. The new heat sealing machines enable gas flushing, which keeps food fresher for longer, providing a great alternative to freezing.
Our ready-made meals also look great in our new compostable trays and we're working towards adding compostable film to our packaging.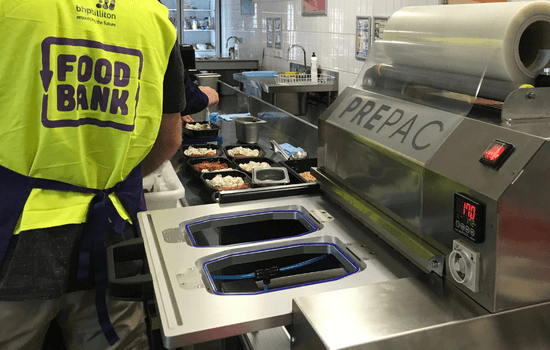 The heat sealers are a big win for our customers, volunteers, and the environment in reducing meal preparation time, and food and packaging waste.
We are so grateful for the financial support as well as their dedicated staff taking the time to volunteer with us. Chevron Australia's support has been invaluable in facilitating Foodbank WA's ability to support the thousands of families here in WA with nutritious food.