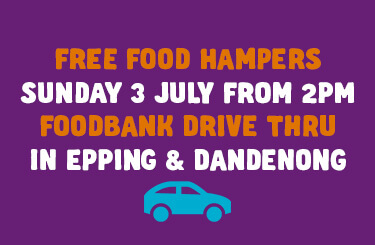 "No choice but to act quickly"
Wednesday 29 June 2022
Foodbank Victoria has just announced a public Drive Thru in Dandenong and Epping this Sunday 3rd July to help put food on the tables of the people severely impacted by the cost-of-living  crisis.
Anyone in need will be able to drive through and pick up a free hamper of fresh veggies and one of pantry essentials. No questions asked.
Foodbank Victoria CEO, Dave McNamara said the organisation had no choice but to act quickly and decisively given what was happening around the state:
"The cost of living pressures on individuals and families at the moment have spiked so dramatically and people are struggling to get back in front."
Foodbank is seeing a troubling new cohort among the 50,000 people seeking food per day. Working Victorians who've never experienced the trauma of not being able to feed their family.
"Not only are charities struggling right now to meet the demand as they come back from COVID," McNamara explains, "but people who are working and find themselves in this position for the first time, have no idea where to go.
Foodbank is a community organisation, and this Sunday is about the community helping so people don't have to feel any stigma or shame. They just need to know that their community cares."
Drive Thru locations are at Chobani's newly-expanded site in Dandenong South and Melbourne Wholesale Market in Epping, made available to Foodbank through the incredible generosity of these two community minded organisations.
"People don't have to live in these areas though" says McNamara, "the Drive Thru is open to anyone in Victoria who needs food. I can't stress that enough. If you are struggling to pay bills and put good healthy food on the table, then we are ready to welcome you and offer our help."
DRIVE THRU DETAILS
DANDENONG
Chobani warehouse carpark. Starts 2pm.
18/20 Quality Drive, Dandenong South VIC 3075
EPPING
Melbourne Market carpark. Starts 2pm.
55 Produce Drive, Epping VIC 3076