"Without hope, I don't know where we'd be."
Jenny never imagined she would need help from Foodbank – until her Marital Arts business had to close down during the COVID lockdown.
"We had no income. My husband, who was semi-retired, went back to work driving trucks. He struggled, but we had to get some money in the door to feed us and our boys.
"Before COVID-19 hit, we were partnering with Foodbank, providing veggies from local Goulburn farmers for hampers. Then we ended up needing help, too. We're still trying to get back on our feet.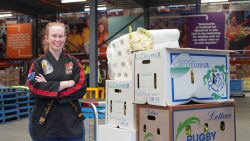 "I'm a Foodbank volunteer now. I'm so intensely proud of our community – the way we are looking out for each other. To all those wonderful people who have donated to Foodbank, please keep your donations coming."
Hungry Aussie families like Jenny's are so grateful to you for putting food on the table – thank you.