Hi Friend,
I hope this message finds you and your family safe and well.
As I sat down to write this, I had intended to dedicate this issue of Feeding Hope to sharing uplifting stories about the impact you've had on the lives of Aussie families doing it tough. But with all of NSW and the ACT in the strictest lockdown since the pandemic began, I have to acknowledge what a challenging time we are enduring together.
Within the first week of the lockdown announcement in June, we had doubled our hamper production and were getting food and pantry staples into the hands of people who needed them most. Now after almost 7 weeks in lockdown, we have gone from packing 1,250 hampers a week to packing up to 3,500 hampers per day to try and keep up with the demand.
In fact, thanks to the generosity of people like you, we've sent 30,355 hampers to people in need since lockdown began. 
I have been overwhelmed by the kindness that our supporters like you have shown Foodbank over the past few weeks. I want to take this opportunity to sincerely thank you for bringing hope to families who are struggling to put food on the table during this lockdown.
After more than 18 months of uncertainty, struggle, and pain for so many in our community, thousands of families are going hungry and turning to Foodbank for the very first time.
And now, our team at Foodbank are facing the challenge of supporting thousands of Aussies who have lost their livelihoods due to COVID.
That is why I'm so grateful that Foodbank has supporters like you to lean on in times of need.
Earlier this year, as our TV screens filled with heartbreaking images of houses, streets and towns under water in the recent NSW floods, at Foodbank we once again witnessed the incredible generosity of Australians like you. We delivered 4,000 hampers in response to the NSW flood emergency, something we could not have achieved without you.
The numbers really tell the story. In the past 12 months, donors like you have helped to deliver;
426,481 meals a week to families in need
354 school programs directly helping feed 79,732 children
85,579 hampers for families doing it tough.
Your generosity has also helped upscale Foodbank's warehouse and its operations meet the surge in demand. With your support, Foodbank has been there to help Australians cope with the most challenging events in living memory. Thanks to you.
The new faces of hunger in Australia, people who are facing hunger for the first time, are not who you might think. They're the elderly, young families, and hardworking Aussies who lost their jobs after the COVID-19 lockdowns. Then there are single people like Glenn, in his 60s, who've worked hard all their lives and hoped to be getting ready for retirement.
With a successful business in the travel industry, seven staff and retirement on the horizon, the last thing Glenn expected was to lose everything because of COVID-19. But he never expected to be directly in the path of the recent NSW floods, either.
Glenn says what was most surprising was that he didn't even know about Foodbank until we were there for him.
"I always say, 'There's people who have worse problems.' I don't want to take things away from those people who've lost everything.
"And when this sort of thing happens, you don't want to go up and line up for things. It was such a beautiful gift to receive in a time of need. And full of all the basic things you need to make meals, too. It was great, so well put together.
"That's why that hamper meant so much. I am on my own, and there were families who lost more than me, but I still received a hamper."
Glenn was overwhelmed by the kindness of people like you. "I think Australians have got that nature, when these things happen, they respond. It was just a lovely, uplifting thing to receive that hamper and know that people really cared."
It's people like Glenn who need you to keep on caring, to keep on giving. People who have never had to ask for help, and are so grateful to have your support.
And we can add the gratitude of Leanne and Jack, and Jenny and their families to that very long list. You'll hear their stories of new hope in the stories below, too.
Thank you so much for helping Aussie families in need.
Yours sincerely,
John Robertson
Chief Executive Officer
Foodbank NSW & ACT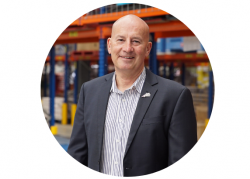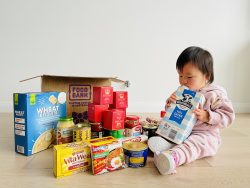 WORDS OF THANKS FROM LOCKDOWN
Please click here to read the words of thanks from people across our state who have accessed emergency hampers throughout lockdown.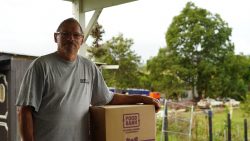 YOUR KINDNESS CHANGED EVERYTHING FOR GLENN
Last year, Glenn lost everything. His business was forced to close due to COVID and then he was once again plunged into turmoil in the disastrous NSW floods. Read about how your kindness changed everything for Glenn.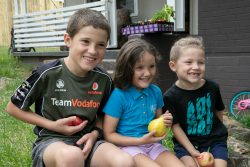 THE NEW FACES OF HUNGER
Do you remember Leanne and Jack and their young family? Click here to find out how your support helped put food on their table.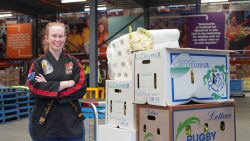 "WITHOUT HOPE, I DON'T KNOW WHERE WE'D BE"
Jenny never imagined she would need help from Foodbank. Read about how your generosity gave hope to Aussie families like Jenny's.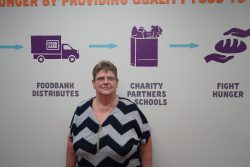 A LITTLE GOES A LONG WAY
Hunger Fighters are big-hearted donors like Margaret who give a regular donation to Foodbank every four weeks. Find out how you can make a difference too.