Protein Power with Positive Poultry
Food donations from Mt Barker make a difference
Every month more than 49,000 West Australians rely on Foodbank WA to feed themselves and their families. For those who are struggling, meat is often considered a luxury, often meaning people either choose cheaper meat alternatives or go without altogether.
The increase in the cost of living, including high petrol prices, increases in rent and mortgage rate hikes, as well as the increases in utility bills means that there is very little money left over for groceries.
Protein is in high demand all year around, yet it's rarely donated.
Since 2019, Mt Barker Chicken, a family-run business that pioneered ethical, free-range farming in Western Australia, has been donating a whole range of products to us which is really helping to provide a vital source of protein to vulnerable West Australians.
A proud member of 'Buy West, Eat Best', Mt Barker has donated 47,466kg of chicken products to us to date. This translates to approximately 2-5 pallets of products a month.
Donations vary from month to month and are dependent on Mt Barker's stock levels and stockist requirements, however they include whole chickens, various chicken cuts and their ready-to-eat and ready-to-cook meal options.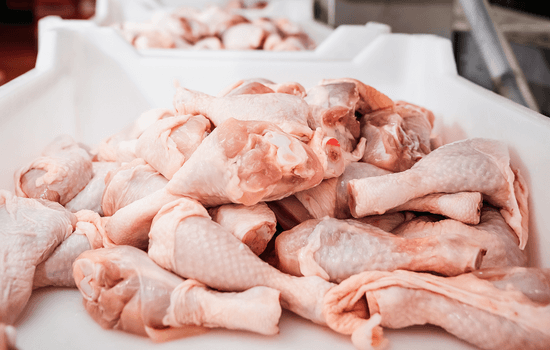 Mt Barker use only premium sourced ingredients including spices sourced from the East Coast and as far as Germany. Their valued meals and flavoured products are getting more adventurous with herbs and spices making the marinades more and more exotic in both flavour and ingredients creating a more delicious meal.
The donated Mt Barker chicken makes up approximately 50% of our total chicken supply which is incredible! Our Community Kitchen Chef Grant utilises the chicken in a wide and wonderful variety of really popular and nutritious meals. These include pizzas, BBQ chicken and bacon, chicken and bacon curry, tikka chicken curry with steamed rice and vegetables, Thai chicken curry with steamed rice and veg and spaghetti carbonara to name just a few.
Not only does Mt Barker donate meat products so generously to us, but they also recently provided more than 8,000kg of frozen vegetables including capsicum, pineapple and onion from their chicken skewers range.
In addition to this, Mt Barker also often donate pet food to us, which our customer feedback shows are highly valued. Many people who are struggling often purchase first for their children and then their pets, leaving themselves to last.
Our aim is to provide a nutritious meal for those who turn to food charity, meaning we rely heavily on the generosity and support of our food donors, and we couldn't be more grateful to Mt Barker.
Browse our full list of partners and supporters