Hamish Blake & Chrissie Swan join the Foodbank Family!
We're high fiving ourselves silly to have these two on board as ambassadors.
Known for his national radio show with Andy Lee and more recently winning the hearts of Lego fans everywhere as host of Channel Nine's Lego Masters, Hamish took part in our annual cycling event 'The Hunger Ride' in 2020, and was immediately keen to do more.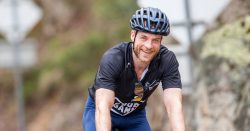 "I'm super proud to represent the work of Foodbank because they make an immediate difference to people in need in an area that couldn't be simpler: food. Whether it's families hit by bushfires, COVID-19 or refugees, Foodbank is there to, at the least, help them eat".
We are thrilled to have him. Not only was he the The Hunger Ride's biggest fundraiser in 2020 (amazing), but his enthusiasm is tops.
As one part of the Chrissy, Sam and Browny radio show on Nova, Chrissie first noticed our work in early 2020. "I watched with awe at how Foodbank Victoria heaped love and assistance on people doing it tough during the pandemic and the bushfires and thought: Gee, I wonder if they'd have me?". Um, yes we would. We were so excited we even had one of our team create Chrissie her very own high vis vest. (shh, don't tell Hamish).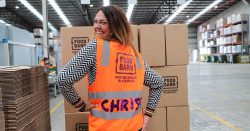 Chrissie and Hamish will continue to help us spread the word through 2022. We might even put them to work on our hamper line. Let's see if they can pack more hampers than Lizzo or Gordon Ramsey!