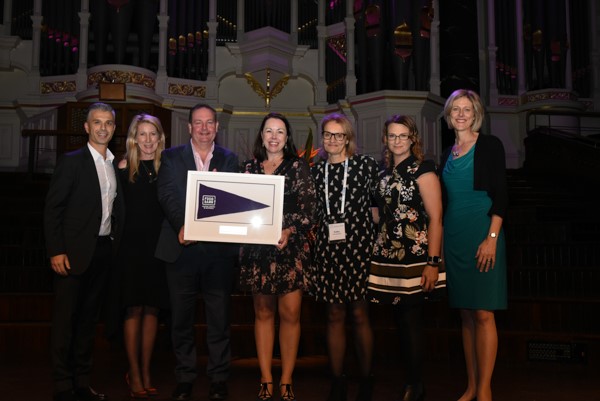 SYDNEY 30 May 2019: Foodbank's national milk program partners – Parmalat, Lion Dairy & Drinks, Fonterra and Saputo Dairy Australia have collectively received the 2019 Foodbank Award for their collaboration to fight hunger in Australia.
Presented at the Food & Grocery Australia conference dinner held by the Australian Food & Grocery Council (AFCG) in Sydney yesterday, Foodbank praised its dairy partners for the extraordinary collaboration with regular contributions on the production of fresh milk to help Foodbank provide relief to more than 710,000 Australians every month.
Announcing Foodbank's highest accolade, Foodbank Australia CEO, Brianna Casey, said; "This prestigious award is presented to an AFGC member or members showing vision, innovation and leadership in partnering with Foodbank to deliver greater impact in providing food and groceries to vulnerable families across Australia.
"This year, our dairy partners receive the award for what has proven to be an extraordinary eight-year collaboration providing 1 million litres of fresh milk a year. This industry sector program is unique to Australia and sets a benchmark for foodbank/industry partnerships around the world.
"Without the support of generous partners such as these wonderful milk companies, we would simply not be able to assist the millions of Australians accessing food relief from our network of 2,600 charities around the country.
"Despite facing turbulent industry and market conditions, Parmalat, Lion Dairy & Drinks, Fonterra and Saputo Dairy Australia supply Foodbank with fresh milk in every state and territory each and every week of the year. This allows school students around the country to have milk on their cereal when they sit down at a breakfast club, it enables pensioners to add milk to their cup of tea or coffee at the drop in centre and it provides families with a staple ingredient for meals such as mac and cheese," Casey explained.
Also on the night, the Flight Centre Foundation's General Manager, Anita Russell, was inducted into the Foodbank Hall of Fame. Announcing the induction, Casey said: "Anita has been at the centre of the Flight Centre/Foodbank relationship since its inception seven years ago. Not only is it an incredibly valuable partnership for Foodbank but, thanks to Anita, it is the north star of corporate engagement.
"From workplace giving recruitment drives to 'The World's Biggest Hamper Pack', Anita has repeatedly challenged and motivated us and her Flight Centre colleagues to do more and achieve more. No idea has ever been too big or too crazy once Anita her applied her 'can do' magic.
"Thanks to her passion and energy, the relationship has gone from strength to strength such that Flight Centre staff and company have funded 8.2 million serves of long life milk as well as 2.4 million serves of pasta sauce, canned fruit and rice," Casey said.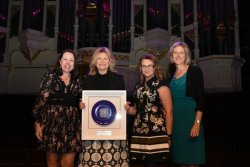 As a long-standing supporter of Foodbank, the Australian Food and Grocery Council (AFGC) provides a platform for Foodbank to present the Annual Foodbank Award at its premier, annual event, Food and Grocery Australia Dinner. Foodbank thanks the AFGC for allowing it to celebrate Foodbank hunger fighters and congratulates its award recipients.