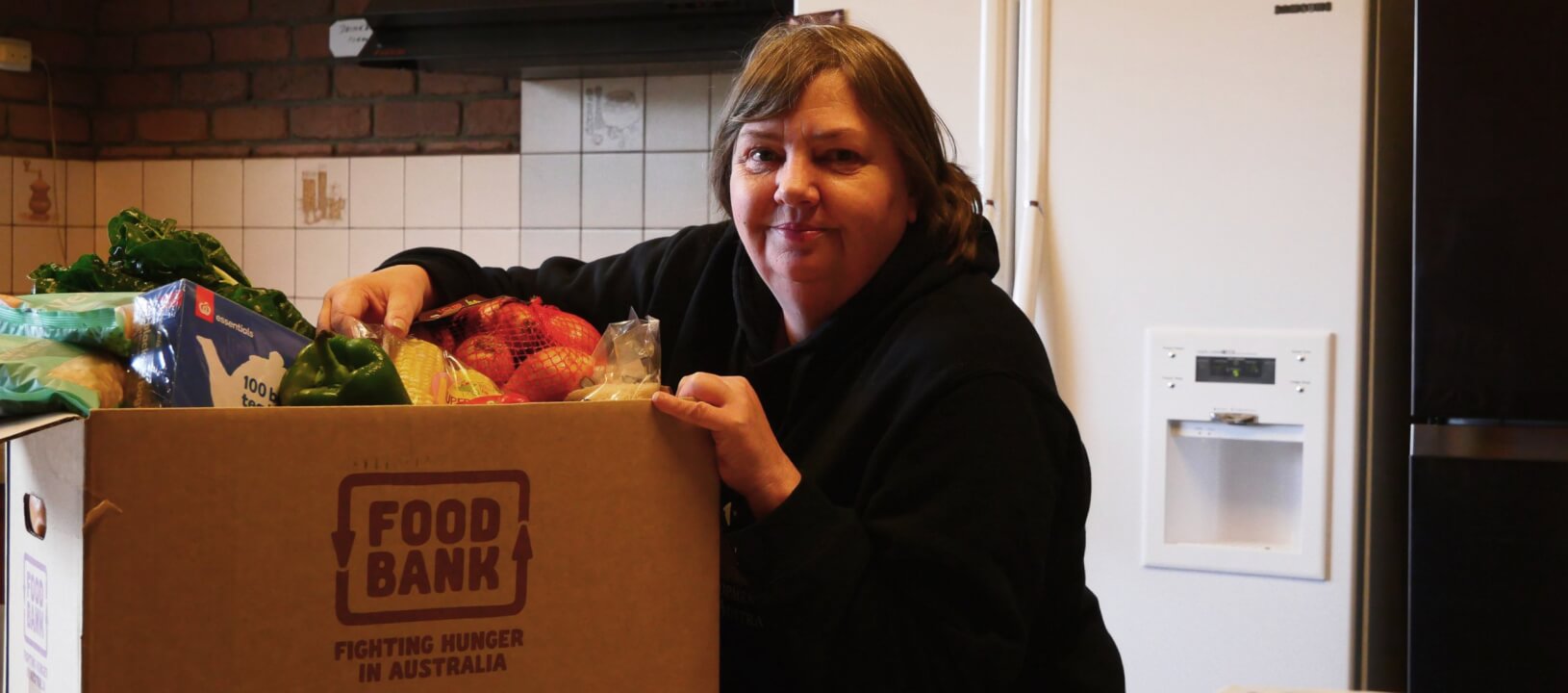 Perri's Story of Courage
How Perri and her husband Geoff went from a normal, comfortable life to needing food relief…
Perri is a qualified nurse. For 29 years she earned a comfortable living helping people in hospital. One day Perri stumbled at home, landed awkwardly, and broke her leg. Perri knew that she would be out of work for some time, but she could have never imagined it would be 18 months before she could walk again. The accident set in motion a catastrophic chain of events, and within three years, her kitchen cupboards were empty.
Perri's husband, Geoff, was a truck driver, he did everything he could to look after Perri during her recovery. When Perri's sick leave and annual leave ran out, she had no choice but to resign from her job. Geoff worked so hard to keep a roof over their heads – everything turned from bad to worse.
From hardship to hardship
Just when they thought their situation couldn't get harder, Geoff suffered a debilitating stroke. Whilst he tried to carry on, they soon realised that the stroke had damaged Geoff's cognitive abilities. Not wanting to be a danger to others, he had no choice but to hand in his keys. He's never driven since.
And that's how, in the space of just three years, Perri and Geoff went from being a comfortable, two-income family to a no-income family, relying on disability support that didn't even cover their mortgage.
As their debts mounted, there was no way they could afford fresh vegetables or meat. For a while, they lived on just plain pasta and rice, sometimes going to bed without eating at all.
Hope for the future
Then Perri found out that a local charity, ADRA Community Care Centre, was distributing food and groceries from Foodbank Victoria. With a lot of courage, Perri decided to go to them for help, expecting just a bag of tins and to be sent on her way. But it wasn't like that at all. Instead, she was greeted with a warm embrace, smiles and a cuppa.
"I felt as if I'd walked into a mini supermarket, there was so much choice. I couldn't believe how much fresh food there was. I walked in there with an empty stomach, feeling ashamed and humiliated. But I left feeling as if my dignity had been restored. And that night my husband and I ate better than we had in months."
Unfortunately, Perri is not alone in her struggle. Too many Victorians across our state are facing empty cupboards and have to turn to Foodbank for support.
You can help people like Perri by signing up to be a Hunger Fighter, to ensure that there will always be fresh, healthy food for those who need it most.