You gave Jade's family the sweetest Christmas gift
Your kindness brought joy and helped Jade to feed her family.
A bit of Christmas pudding may not sound like a big thing to get excited about, but for many Aussie families like Jade's, that little extra treat can fill a room with warmth and smiles.
It's not easy raising seven kids – including a 14-year-old daughter with serious health issues and needs. Or facing the rising cost of rent, power bills, and groceries. But that's the reality in Jade's household.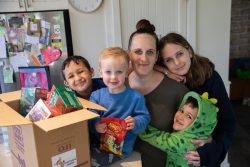 That's why we're delighted to share with you these happy snaps of Jade and some of her young ones feeling the love at Christmas time. Thanks to the generosity of donors like you.
Many families feel stressed about the Christmas period and the extra expenses that come with it. At that time of year, especially, kids shouldn't have to miss out.
"We do try and give our kids everything, but it's just with my daughter being sick, it's just one of those costs that we wouldn't be able to afford," shared Jade.
Jade told us she just wanted Christmas to be "amazing" for her kids this year. And you have delivered on that wish.
"It really makes a big difference to our family and kids to what sort of a Christmas they do get. If it wasn't for Foodbank, we would definitely be missing out on a lot, just the kids, even just with fresh food, because it's so expensive at the moment."
Thank you for being there for Jade and her kids at this special time of year.
More articles from Feeding Hope 2023